Hello friends
Hola amigos(as)
Today on Puerto Rico celebrate Three Kings Day after this day our country continue the season party that call "Octavitas' (eight days more to continue the christmas seasons)
After this start the "San Sebastian Street Party"on the Old San Juan so the party continue more days.
If you want to know more info about "Sebastian Street Party" go
here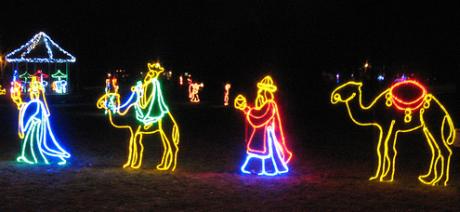 After my trip I feel fine but on the 3rd day I feel like cold symptoms... today I feel so bad taking medicine (also bed rest). I have this message to sent so I'm front the computer but feel so sick. I think is the first time I feel sick on this special day. Enjoy your day.
Hoy en Puerto Rico se celebra el día de los Tres Reyes Magos luego de este dia en mi país se continua celebrando lo que llaman las octavitas (son 8 dias mas de fiesta navideña) Luego se celebra en el Viejo San Juan, Las Fiestas de la Calle San Sebastian asi que la fiesta continua mas dias.
Si deseas mas info acerca de Las Fiestas de la Calle San Sebastian ve
aquí
Luego de mi viaje me sentia bien pero al tercer día me senti con sintomas de catarro (resfriado)... hoy ya me siento muy mal tomando medicamentos (descansando en la cama) Tenia este mensaje para enviar asi que estoy en frente de la computadora me siento enferma. Pensando que es la primera vez que me toca estar enferma en este día tan especial. Disfruten este día.
I add to my blog some of my handmade cards (
From January to June 2011
)
Subo a mi blog parte de las creaciones que hice durante el año 2011 (Desde
Enero 2011
hasta
Junio 2011
)
June 2011
May 2011
April 2011
March 2011
February 2011
January 2011
Thanks for stopping by!!!
Hugs, Sonia **Sony**